Access Database Development Services
While we can do pretty much whatever is required with Access databases the majority of our work tends to fall into one of these six categories:
Contact us now for MS Access database programmer in UK to see how we can help you with your MS Access database development project… or read on for more of an explanation about each of these services.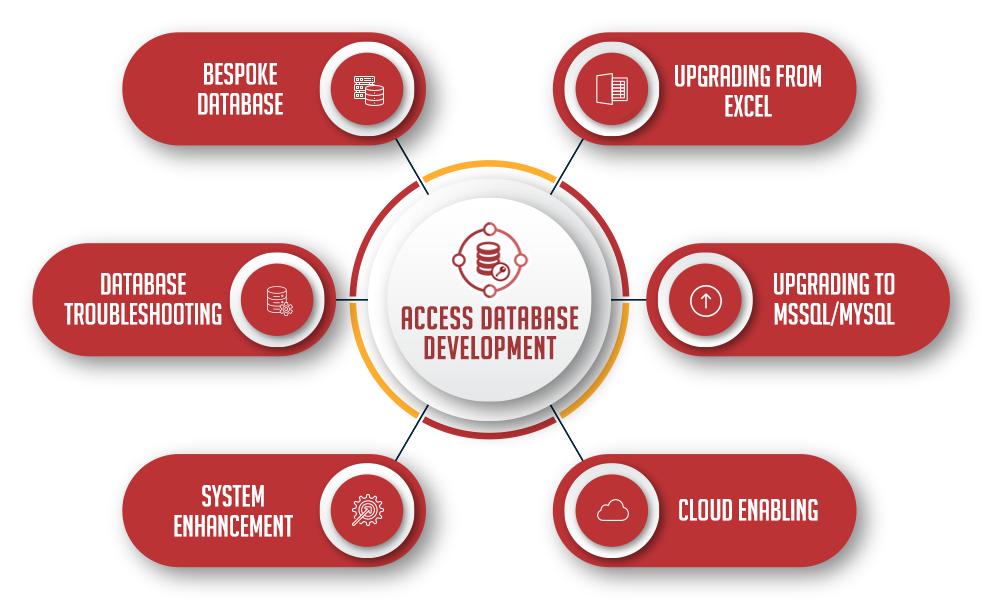 Custom Access Database Development
We at Access Database Development.co.uk develop custom databases tailored to your business needs and providing your business with a competitive advantage by enabling you to increase efficiency, enhance quality of service and make the work lives of staff simpler. We MS Access database Development Company in UK specialise in building bespoke business database solutions using industry standard tools such as Microsoft Access.
What does a bespoke Access database solution offer? Flexibility. A custom database solution can be designed by MS Access database development services in UK and built to meet the precise requirements of a business. This means the system will support and enhance business processes as the company desires, without forcing compromise or adaptation. We offer agility. With a custom database solution you will have the ability to change the way it works and add new features or functionality as your business or needs change like an ms access developer. We feel that being able to make and deploy changes quickly and easily can give you a significant competitive edge.
We believe that ease of use is crucial for all database solutions and as such we create ours databases to be simple, user-friendly and intuitive to use. A custom solution allows us to build screens and processes that make the lives of employees as easy as possible. All of these benefits combine to yield cost savings for businesses and companies that choose to employ our services.
Fixing and Troubleshooting
At Access Database Development.co.uk we understand that sometimes databases do not work as expected. Error messages pop up that don't seem to go away, systems run too slowly, data goes missing. Don't worry, we can help! As Microsoft Access specialists we have the skills and experience to solve your database problems quickly and can give your database a health check to avoid future problems and advise about backups to minimise disruption should the unthinkable happen.
Upgrades and Enhancements
We don't always need to create or fix databases, we often deal with companies that would just like to change the way an existing database works. We work with many clients where the original developer of the database has left the company or is otherwise unavailable. We have no problem putting the current system on a sound footing and moving them forward as required. If you know that you would like a change but are not quite sure what or how then just let us know, we are happy to give free business consultations.
Your database should adapt and grow as your business evolves. Typical enhancements we make to Access database systems includes multiple levels of integration, importing or exporting information, the addition of new forms or fields, changes to queries and reports etc.
Upgrading to Access from Excel
A common service we offer is upgrading a business from Excel to Microsoft Access. Excel is very useful but it can be a time consuming tool to use and often poses difficulties in generating reports / data storage. Many companies find that it is a struggle to manage data within Excel software.
We can help you successfully manage the migration of Excel spreadsheets to a Microsoft Access-based database solution resulting in significant time savings and making everyone's lives much easier. In most cases, all the data in your spreadsheets can be moved to Access ensuring you have the continuity you need.
Upgrading from MS Access to Microsoft SQL Server, MySQL or other scalable databases
While Microsoft Access is the most popular database system in use today, it is not best-suited to environments with large numbers of concurrent users, very high transaction volumes or situations in which the database may need to be accessed from different locations. For these scenarios, a MySQL database or Microsoft SQL Server are good choices. Being that Microsoft Access and SQL Server work very well together, the upgrade allows you to preserve your investment in Access development while gaining the benefits of the SQL Server database platform. MySQL database is open-source and very widely used too so it can be similarly straight forward to migrate from a MS Access database to a MySQL database. So, while "system upgrades" and "database migration" might fuill you with dread we are here to make the process less daunting. Let Access Database Development ease you through the conversion process from migration to modification.
Cloud-based databases, get you MS Access system online
There are plenty of good reasons to put your Access database system online. Your Access database powered portal can be a book for your customers (or suppliers) allowing them to access information and complete transactions whenever they like without the need to bother any of your staff, this means the database driven part of your business can be running 24/7. A portal-based implementation of your key business processes can make it easier than ever for your staff to work remotely without any hiccups or grumbles. With careful planning and technical expertise Access Database Development can help your business get its systems online quickly, efficiently and securely.