Uses for MS Access Database Systems
The reasons for using an Access Database solution are the same as for using database solutions in general. Well designed database systems can make your business more efficient by automating key tasks and reducing the time needed to perform key tasks. Simple database solutions can help to enable you to offer a high quality service to your customers thus giving you a competitive edge in the market place. On top of all that databases are excellent sources of insightful management information that you need to run your business efficiently and profitably.
Databases are commonly used for a whole raft of different purposes, for instance, here are a few ways that a well developed and implemented Access database system can be utilised by your business:
I am sure you can think of more! Why not get in touch with me today to discuss your requirements to see how I can help you with your systems / database headaches… or you can read on for more information about some of the above listed Access database solutions.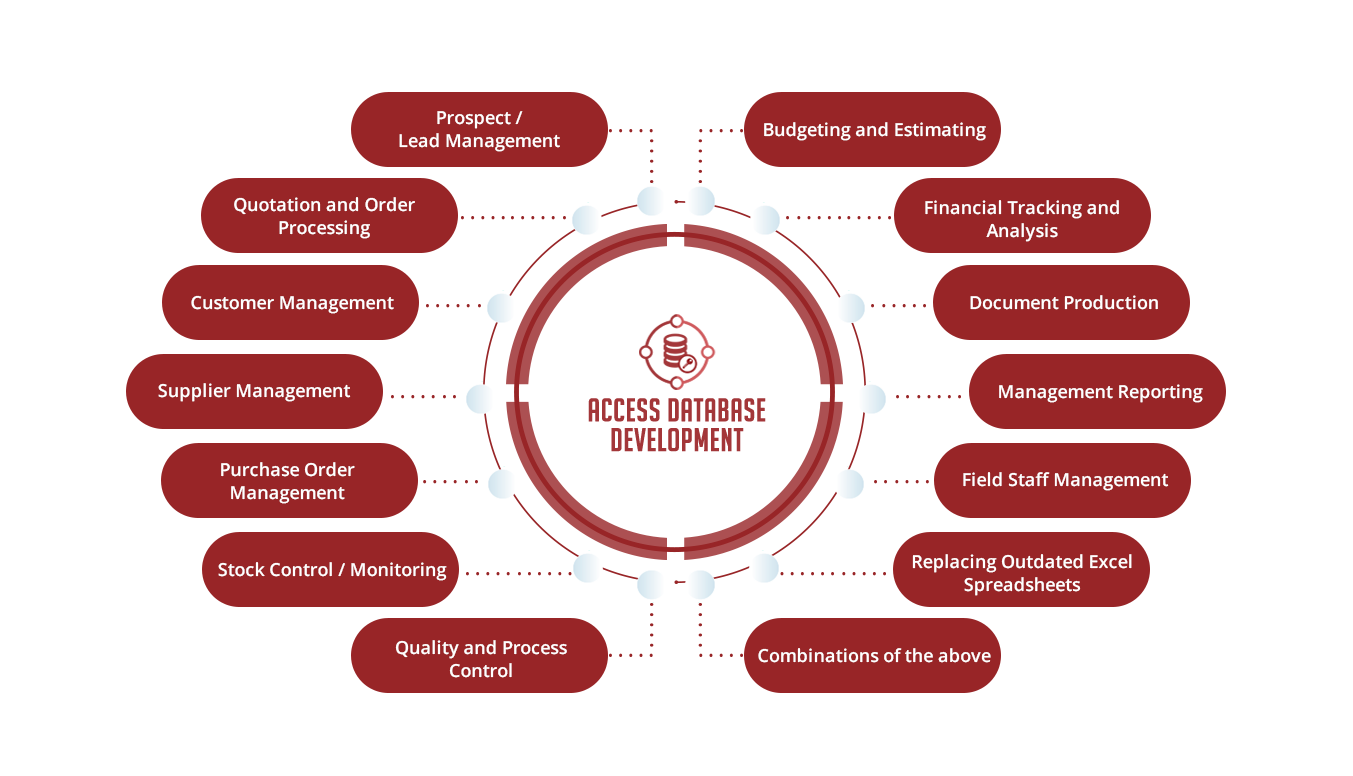 Customer Relationship Management (CRM) & Contact Management Solutions
Having a good customer and contact management system is crucial for any business. We can help you get an organised and comprehensive view of the people that you do business with or would like to do business with. This is achieved by keeping your contact history details in one place for easy access, consolidating disparate spreadsheets and other sources of contact information and sending emails and generating documents to communicate with a customer base. These 'CRM' solutions will be customized entirely around a business and its clients and we work closely with companies to ensure that the system works exactly as needed.
Sales Management, Prospect Tracking & Pipeline Management
With a prospect and pipeline management system it is important to make data entry as easy and painless as possible in order to ensure that information is captured quickly and correctly. With a bespoke sales, prospect and pipeline management system a business can track exactly the information required about its prospects. Access database systems can also analyse and report on the information needed to manage business on a day-to-day basis. You will be able to easily analyse the relative performance of your sales staff, compare leads and conversion by type of organisation, location, source, etc. We can help you turn your data into insightful information, knowledge is power!
Order Management, Invoicing and PO Management
Processing orders, invoices and purchase orders can be quite a tedious, time consuming and paper intensive task. With Access Database Development.co.uk we can help you reduce the time your staff spends processing orders, invoices and purchase orders with an automated system. We will tailor the systems to the needs of your business to help eliminate paperwork and streamline workflows. Using a system tuned to the way your staff need to take orders will speed up the order input processing and ensure that information is recorded accurately and efficiently.
Management Reporting and Customer Reporting
As Access database specialists we can develop a customized database for your business which lets you collect, analyse and report on information as needed. More importantly, we can often supplement your existing systems, finding more creative ways to work with your data. Accurate, timely and concise management reports are an essential tool. Companies frequently need better reporting from existing systems and The Access Database Development.co.uk is on-hand to help with this. We can help you turn your data into insightful information, knowledge is power!
Document Generation & Task Automation
Creating documents one at a time can be time consuming. Generating documents automatically from your database system takes the pain out of the document generation process. The Access Database Development.co.uk can automate the production of letters, forms, invoices, job reports, purchase orders as well as other documents as needed. We have extensive experience in automating the document generation process, everything from standard to highly technical documents comprised of information from several different sources.
Database Integration with Other Systems
Integrating your present Access database system with other systems is not as difficult as it may seem. We can eliminate the often error-prone process by automating the import and export of information between your systems. This includes uploading and downloading information with third party databases / systems or even web sites, integrating with MS Office and speeding up business processes. Why waste time and money rekeying data when we can help you integrate your data sources?
People & Process Management
Automating your business processes is often the key to running an efficient operation and gaining a competitive advantage. Our aim is to understand your business processes in order to work with you to develop a custom Access database solution that meets your exact requirements. Our database solutions are designed to be intuitive for users as well as flexible and technically elegant. We can automate complete processes or focus on the parts that are the most inefficient.
Project Management & Tracking
In addition to basic management, we create Access databases to keep track of key dates, activities and tasks. Our specialists will design specific systems to track projects for your business. The system will also create management and exception reports, emails and custom alerts. We believe that resources can be better managed by understanding where the capacity is in a business at any point in time.
Data Importing & Data Exporting
Microsoft Access is a very open database system and can share data with multiple systems and solutions. While importing and exporting information can sometimes be very straightforward it can often require innovative solutions and in-depth knowledge of data mapping and data manipulation. Our day to day experience regularly includes CSV, XLS and XML data formats but we can work with other formats too.
Developing Databases and Software for Commercial Exploitation
Developing a database that you are then going to sell as a product can be quite an arduous task unless you have the right team of professionals on hand (i.e. us!) to assist at each twist and turn. One service we offer is turning a database or an idea for a database into a commercial product. We will provide advice as to what needs to be done to bring the product up to the necessary standards and undertake the development work for you in a fast and professional manner and can even compile Help files and User Guides for your customers to use.